LEASE - Glen Dara Token (stallion paperwork submitted)
Expressions of Interest - Lease Glen-Dara Token Grey colt (Stallion reg pending) 6yo, 9.2-3hh closely related to Glen-Dara Boris (stands at...
Mulwala
$0.00 AUD
Grey filly
For the discerning breeder, this filly boasts a smorgasbord of lovely, rare, old bloodlines; a real heirloom pony! She's also a pretty girl. So why...
Kinglake
$1,200 AUD
Clan Chattan Golden Glow
Glow has a fantastic temperament, loves people and she is so easy to catch, lead at walk and trot, worm, float, wash, rug, stable and tolerant for...
Adelaide
$1,500 AUD
Gracedale Crusader
Beautiful Black 10hh (not official) Shetland. Little Ben is rising 5 year old gelding and has been shown/handled from a foal. Professionally broken...
Swan Hill
$4,000 AUD
Deekays Park Leo
Yearling colt with basic handling APSB reg Mature 9.2-9.3hh
Colac
$750 AUD
Royalview Louis
Gorgeous Shetland. Easy to trim hooves, brush, worm, wash, rug, float or put on truck and accepts being tied up for long periods of time without...
Orange
$950 AUD
Lynvale Lodge Jinx
Very pretty yearling filly mature around the 10/10.1h range Easy to handle, catch and very friendly. Entered APSB and Shetland show fururities ...
Woodend
$1,000 AUD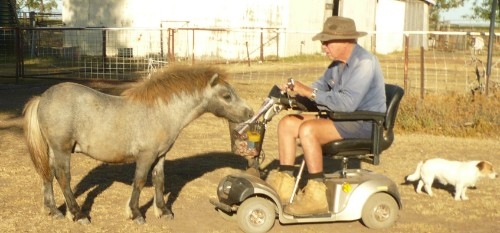 L Bar Foals
Foals at L Bar born 2018
Dalby
$0.00 AUD
Two pied broodmares, sold as a package. One has been running with Otway View Tully.
Beautiful quality mares to be sold preferably as a package. Torrieburn Ella Girl is the dam of Silver Mountain Duchess, Supreme Shetland 2017 Vic...
Traralgon
$1,500 AUD
Glen Ardan Nadia
Lovely type of filly. Good Shetland qualities. Double mane. Nice feathering. Mature approx. 9.3hh Suit being a broodmare. Good length of rein....
Ballangeich
$800 Firm
mirrabella Cocco
Mirrabella Cocco is a very pretty dun mare, small head, large eyes and a sweet face. Se has good bone and straight movement. She is very easy to...
goulburn
$1,400 AUD
Domino downs golden caviar
Jewel is correct in every way...is easy to float, wash, have feet done worm etc. Has been shown successfully and i would love to see her go to a...
KANGAROO FLAT
$1,800 AUD